Ten years after Marc Andreessen's oft-quoted "Why Software Is Eating the World" article, lines of code are still revamping industry dynamics and generating fresh revenue streams. Disruption has even accelerated, given wider cloud adoption and the influence of AI.
Today, every company is software intensive. And data intensive. Software and data are baked into company operations, products, and services in every industry. Delivering productivity or innovation.
Because we have a large team of experts in software and data engineering, we are really strong in data platforms — maybe the strongest in the Netherlands. We build and run them for many of our customers, such as eLeaf, ASML, NXP, Ampleon, TNO, Vanderlande, AMF, Demy, and many others.

We come far from empty-handed; our large team of data and software experts have a backpack full of prefab solutions, code fragments, cloud foundations, data-engineering best practices, knowledge of commercial IT and digital platforms, and even complete systems. We recommend that you use these and make them your own.

And the choice is yours. We can use our building blocks to build your own platform and pipeline. Or you can get a head start and run your use cases on our platform.
Our Itility Data Factory (IDF) platform can translate your data into daily intelligence. This platform gathers data in an automated way, processes it in a repeatable way, and applies it to the models. It offers a variety of software artifacts that can provide results through any channel to the human in the loop, or even via an API to operate systems autonomously. Many mobile apps, portals, and other software applications run on IDF.
IDF offers the data pipeline to apply, test, and retrain your data-processing models. It is the workhorse for your data scientists, report analysts, and/or any other end-user in your business process.

The data factory can make your business data-driven in the truest sense; it is the core for turning your data into value.

In addition to the data foundation (the data workhorse), we have building blocks to address the industrialization of AI. These provide the means to build and operate your AI application quickly and reliably, using low code, high code, a rules engine, and many other software-development building blocks.
Get in touch with our experts
Jeroen and Jasper are our software and data experts. Curious how they can help you with your technical solutions? Feel free to reach out.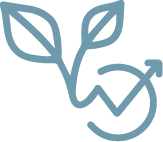 Agriculture

    Energy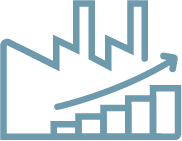 Manufacturing